May 23, 2023
The development isn't officially open yet so contact me for updates.
Exploring Young Farm: A New Development in Cary
You know how I love exploring new neighborhoods as they pop out of the ground! I am not associated with the builder, I like to post about new developments you may be interested in.
I pass this site often watching the dirt piles and bulldozers. But guess what? They've finally started building the homes!  Although the model home isn't open yet, I thought I would give you a sneak peak. I Visited the site, took some photos and videos and called for information.
Young Farm is located in Cary, on Morrisville Parkway. The west side of the neighborhood is in Chatham County and the east side is in Wake County. There will be a maximum of 190 lots on approximately 92 acres with 95% of the lots exceeding 7000 sq ft in size.
I was told they are now releasing the first six homes exclusively to their VIP list, and prices range from $750,000 to $800,000
If you're relocating from out of town, the distinction between the neighboring towns of Apex, Cary and Holly Springs might leave you feeling a bit puzzled. The small downtowns have their local vibe but they are just a couple of streets. The neighborhoods and addresses run together and particularly in West Cary and Apex near Chatham County it's almost impossible to tell if you are in Cary or Apex, they look the same and there is no clear dividing line. To add to the confusion, the development adjacent to Young Farm actually carries an Apex address.
The age of the homes is the biggest difference. Cary was built in the 1990s, which gives it a slightly older feel, especially compared to the newer areas in the west near Chatham County. Apex, on the other hand, has been developing continuously since the 90s. Holly Springs has experienced the most recent growth spurt, primarily in the last decade due to the introduction of Highway 540, the outer Triangle beltline.
The neighborhood enjoys the benefit of being in both Wake County and Chatham County, offering access to two excellent school systems. While both school districts boast high-quality education, it's important to note that certain schools in Cary may have enrollment limitations, commonly known as capping. This means that some schools may not be accepting new students, and as a result, your child could be assigned to an overflow school within the district. You might want to think about this aspect when evaluating school options for your family in Cary.
In Chatham County, the 14,000 acre Jordan Lake is between Young Farm and the schools, so also consider the travel time to the Chatham schools.
Taylor Morrison: Good Builders in Young Farm
In my experience, Taylor Morrison, the builder for Young Farm, has shown a track record of delivering quality work. It is important to have an excellent project manager, site builder, and dedicated management that genuinely cares about buyers and ensures well-trained builders. Taylor Morrison has some of the more rigid procedures, which actually makes for a more organized build process.
Rising Home Prices in Cary/Apex
While the initial $750,000 to $800,000 prices may initially seem high for homes ranging from 2700-3700 sq ft, it's important to consider the market trends in the area. I noticed that a neighboring property in Providence at Yates Pond, which has an Apex address, is currently under contract for $2,000,000, it sold new for $843,000 in 2018. This goes to show that home prices in Cary and Apex have been on the rise, and most new homes in the area now exceed a million dollars.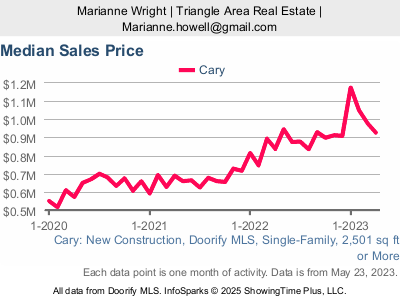 Planned Neighborhood Amenities
Pool
Walking trails
Clubhouse
Dog park
Parks
Sports Park
Sidewalks
Experience Young Farm: Schedule a Visit Today
If you're intrigued by Young Farm and want to learn more or schedule a visit, I'm here to assist you every step of the way. As a real estate buyers agent with expertise in the area, I can provide you with detailed information and guide you through the home-buying process. Don't miss out on the opportunity to explore this exciting new development. Contact me today to get started!
Marianne Howell Wright
Triangle Area Real Estate, Broker/Owner
Serving the Triangle Area of North Carolina
919-274-4365